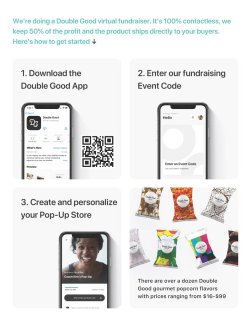 What

Double Good Spring Fundraiser!!!!

When

4/17/2023, 5:00 PM

Where

Virtual
Fernwood Parents! It's that time of year again...

Double Good time! Our fundraiser starts today and ends on April 21st at 5:00 pm. We are striving for 100% participation. After setting up your child's double good store, send the link to their store to all of your friends and family!!! Our goal is to reach $85,000 in total sales! We sold over $75,000 last year - and we want to top that!!! WE CAN DO IT! Remember - our fundraiser supports ALL of our yearly events and keeps us providing opportunities for your child. WIN FLAT SCREENS TVS, GAME SYSTEMS, AND MORE!!!

WE CAN DO IT!!! LET'S GET POPPIN!!!!