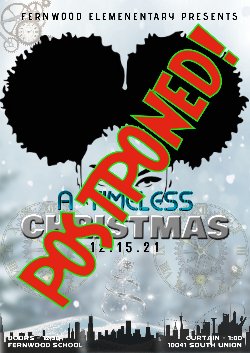 What

2021 - 22 Annual Christmas Production

When

12/15/2021, 1:00 PM

–

2:30 PM

Where

Fernwood Auditorium 10041 South Union Chicago IL60628
Our Annual Christmas Production is back and better than ever before!!! Our students and teachers are practicing hard to provide you a performance you won't forget! Come and be AMAZED as you witness, "A TIMELESS CHRISTMAS"
As we prepare to welcome you to our show, we want to make you aware that our auditorium will operate at 100% capacity; as such, as an audience member, the proper wearing of masks will be required of you at all times while in the school, auditorium, and throughout the performance. In addition, all audience members will be required to show proof of vaccination – that is a vaccination card with photo ID.
For exemptions or if you are not vaccinated (including children) you must provide proof of a negative COVID-19 test along with a photo ID. Tests that are accepted are either PCR test taken within 72 hours of the performance start time or an antigen test taken within 6 hours of the performance start time. No home tests will be accepted. Children under the age of 2 will not be admitted due to COVID 19 protocols.
Feel free to email me at rltowner@cps.edu if you have any questions. We look forward to seeing you!
Sincerely,
Robert L Towner
Principal
***UPDATE***
Dear Fernwood School Community,
After much deliberation and with great hesitancy, we regret to inform you that we must postpone our Holiday Performance until after the Christmas break. This decision was made for two reasons: One – we were made aware today (12-14-21) that a person who was present in Fernwood has tested positive for COVID-19. The CPS Contact Tracing Team is currently investigating this report and will follow up directly with students and staff who are determined to be close contacts. Secondly – with the rise in COVID cases in our community, we feel postponing the event will be in the best interest of safety.
Sincerely,
Robert L Towner
Principal